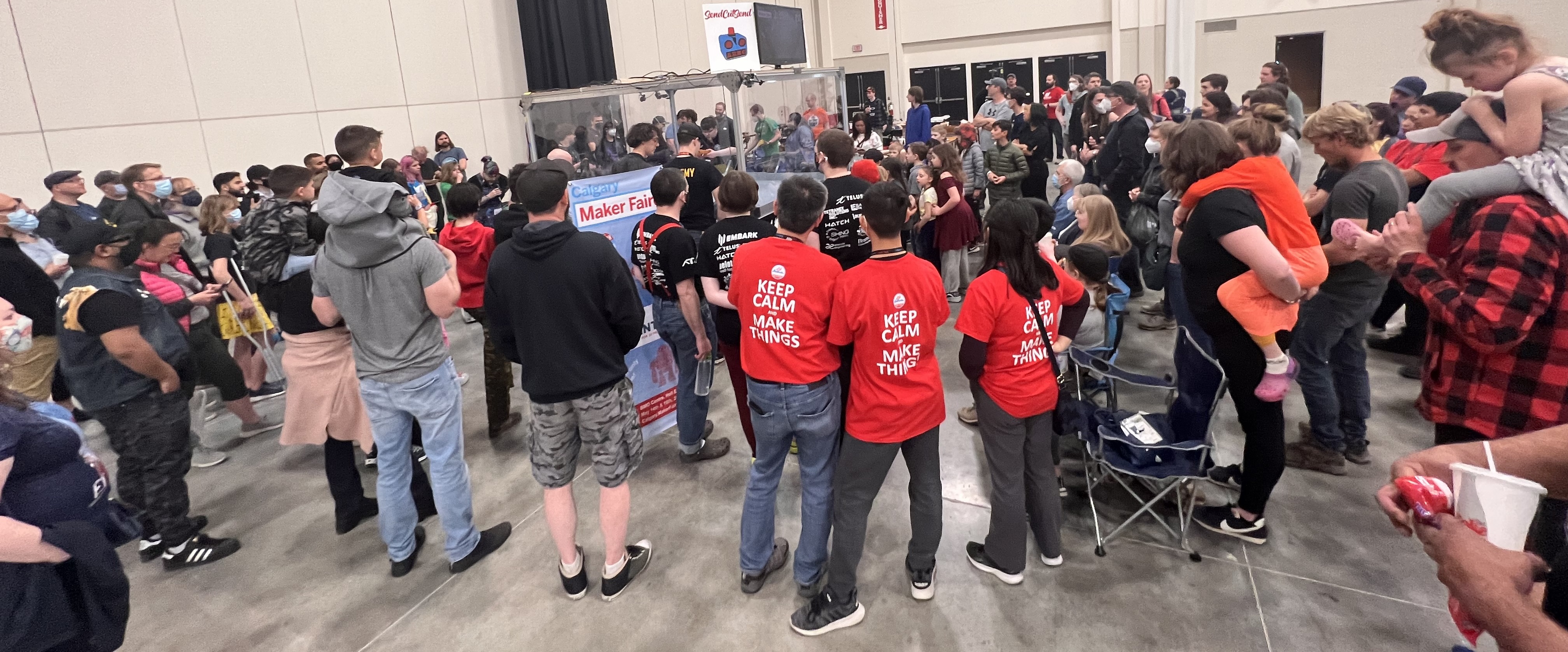 Kilobots 51 - Canadian National Championships
Calgary, AB, CA
August 12 - August 13, 2023
Event Description
It's back! Kilobots, the largest combat robotics organization in Canada, is bringing back the Canadian National Championships after a four-year hiatus. This is our biggest yearly event, and brings in competitors from across North America to compete for the Kilobots Cup!
For the first time ever, the Canadian National Championship will be hosted in Calgary, Alberta by the Alberta Robot Combat Club.
Visit Kilobots.com, join the ABRC on Discord, or Kilobots on Facebook if you're interested or have any questions!
Other Events by Kilobots Combat Robot Events
Event
Date
Location
Robots
Kilobots 51 - Canadian National Championships (This Event)

REGISTRATION OPEN

Aug 12, 2023
Calgary, AB, CA
27 Robots
Kilobots 52: The Paradox

REGISTRATION OPEN

Jul 15, 2023
Saskatoon, SK, CA
16 Robots
Kilobots 50 @ Calgary Maker Faire
May 13, 2023
Calgary, AB, CA
27 Robots
Kilobots XLIX @ Saskatoon Entertainment Expo
May 6, 2023
Saskatoon, SK, CA
14 Robots
Kilobots Rookie Ruckus - March 2023
Mar 25, 2023
Saskatoon, SK, CA
8 Robots
Kilobots XLVIII @ FingerTech HQ
Jan 21, 2023
Saskatoon, SK, CA
26 Robots
Kilobots XLVII @ FingerTech HQ
Sep 24, 2022
Saskatoon, SK, CA
18 Robots
Kilobots XLVI at the Calgary Maker Faire
May 14, 2022
Calgary, AB, CA
POSTPONED Kilobots XLV - RoboPalooza at Maker Faire 2020
May 30, 2020
Saskatoon, SK, CA
Kilobots XLIV - Calgary Robot Smash-Up
Oct 26, 2019
Calgary, AB, CA
Kilobots - 2019 Canadian National Championships
Aug 10, 2019
SK, , CA
Kilobots XLII - RoboPalooza at Saskatoon Maker Faire
May 25, 2019
Saskatoon, SK, CA
Kilobots XLI @ UofS Spectrum
Jan 12, 2019
Saskatoon, SK, CA
Kilobots - 2018 Canadian National Championships @ Sask Expo
Sep 15, 2018
Saskatoon, SK, CA
Kilobots XXXIX - RoboPalooza at Saskatoon Maker Faire
May 26, 2018
Saskatoon, SK, CA
Kilobots XXXVIII @ Center Mall
Jan 20, 2018
Saskatoon, SK, CA
Kilobots XXXVI @ Warman Legends Centre
Jun 16, 2017
Warman, SK, CA
Kilobots XVI @ SPECTRUM 2010
Jan 17, 2010
Saskatoon, SK, CA
25 Robots
Kilobots XIII
May 17, 2009
Saskatoon, SK, CA
19 Robots
Kilobots XII
Mar 30, 2008
Saskatoon, SK, CA
20 Robots
Kilobots XI
Nov 11, 2007
Saskatoon, SK, CA
21 Robots
Kilobots X, Spectrum 2007
Jan 21, 2007
Saskatoon, SK, CA
42 Robots
Kilobots IX
Feb 26, 2006
Saskatoon, SK, CA
27 Robots
Kilobots VII
Mar 6, 2005
Saskatoon, SK, CA
24 Robots
Kilobots VI
Oct 23, 2004
Humboldt, SK, CA
17 Robots
Kilobots V
Jun 27, 2004
Saskatoon, SK, CA
17 Robots
Kilobots IV
Mar 26, 2004
Saskatoon, SK, CA
10 Robots
Kilobots III
Jan 18, 2004
Saskatoon, SK, CA
14 Robots
Kilobots II
Aug 24, 2003
Saskatoon, SK, CA
12 Robots