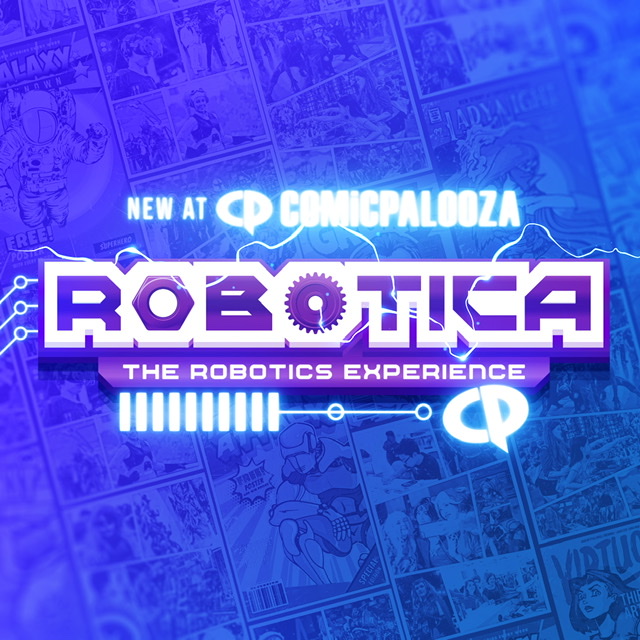 Robotica @ Comicpalooza
Houston, TX, US
Jul 15, 2022 - Jul 17, 2022
Registration
| | |
| --- | --- |
| Starts: | Feb 27, 2022 00:02 UTC |
| Ends: | Jul 8, 2022 00:07 UTC |
Registration for this event is not hosted on the Builders Database.

This link will take you off the site.
Registration Link
Robot Classes / Competitions
Category
Robot Class
Maximum
Capacity
Currently
Registered
Entry
Fee
Pit Crew
Allowed
Event Description
Houston Area Combat Robotics presents, in cooperation with Innovation Spark and Texas' largest pop culture festival, Robotica @ Comicpalooza! 3 full days of vicious and entertaining robot combat featuring competitors from around the entire country fighting it out in front of tens of thousands of convention goers at the largest event in the southwest! For the first time in 20 years, there will be a Robotica champion as bots from the biggest behemoths to the smallest scuttlers fight it out at an event with stakes unlike any other. Robotica is guaranteed to be the largest competition in Texas in nearly a decade and a half!
The Place:
George R. Brown Convention Center
1001 Avenida de las Americas
Houston, TX 77010
We should have a table set up for you, along with chairs. There will be a dedicated charging area for batteries. If you want to bring more chairs, we recommend it.
The convention center is located directly across from the Hilton Americas - Houston and Marriott Marquis - Houston, both of which have connecting walkways to the venue itself. We are still working on getting discounted hotel fees for competitors and updates will be made both here and via email.
The Arenas:
Heavyweight Sportsman, Featherweight, Hobbyweight Arena: 16ft x 32ft, no hazards.
Beetleweights: 8ft x 8ft, may or may not have pits.
Antweights: 6ft x 6ft, may or may not have pits.
Fairyweights: 4ft x 4ft, has corner pits.
The Fights and Tournaments:
Fights in all weight classes will be 3 minutes.
Heavyweight Sportsman, Featherweight, Hobbyweight tournament: Classes will compete in a double elimination tournament to decide the respective champions in their weight classes. If time permits on Sunday, grudge matches, rumbles, and/or other special exhibitions may occur. If fights do not end in a knockout, judges will judge accordingly. Standard SPARC judging rules apply.
Beetleweight, Antweight, Fairyweight tournament: Classes will compete in a Swiss-style tournament over Friday and Saturday to determine the best robots in each weight class. The top 8 robots as decided by the rankings will fight in a double-elimination tournament on Sunday to determine the respective champions in their weight classes. Swiss fights will not have judges, but the double-elimination fights will. Standard SPARC judging rules will apply.
The tournaments will have cash prizes for the winners. Prizes from sponsors will be announced as they are made available.
Points in Swiss Tournament:
Knockout (win by disabling, pitting, forfeit, etc): 2 points to winner
Bye (robot gets a pass in the round): 2 points to robot receiving bye
Timeout (fight goes 3 minutes without a winner): 1 point to both robots
Loss (loss by disabling, pitting, forfeit, etc): 0 points to loser
Entry Fees:
250lb Heavyweight Sportsman: $150
30lb Featherweight: $100
12lb Hobbyweight: $75
3lb Beetleweight: $40
1lb Antweight: $30
150g/5.3oz Fairyweight: $20
Please note that in addition to the above entry fees, each competitor will need to get a weekend pass from Comicpalooza in order to be able to compete. Please understand that Robotica is not responsible for this, nor does Robotica receive any of the money spent by competitors on event passes - this was a mandate Comicpalooza gave us in order for this event to even happen. We were able to get you a discount code - enter ROBOTICA as a code at checkout to get a discount on passes. You can purchase the Comicpalooza passes here. WE RECOMMEND PURCHASING PASSES AS EARLY AS POSSIBLE TO MINIMIZE TEAM COSTS, AS WE DO NOT KNOW IF OR WHEN COMICPALOOZA WILL ATTEMPT TO RAISE COSTS.
Safety and Rules:
WEIGH-IN AND SAFETY CHECKS WILL TAKE PLACE FRIDAY, JULY 15, FROM 12PM TO 8PM. PIT ACCESS OPENS UP FRIDAY, JULY 15, AT 10AM.
All robots from 150g to 3lbs will be run through safety and weigh-in before being approved to compete, and must comply with the SPARC Robot Construction Specifications, latest revision. 12-250lb robots will need to comply with the Robot Ruckus version of the SPARC rules for 250lb heavyweight sportsman* robots. If you are competing with a heavyweight sportsman robot, we recommend that you make sure your robot is in compliance with the latest edition of the BattleBots rules, but want to make clear it is not mandatory to compete. Please note that flame weapons are not allowed at this event. Additionally, there is no active weapon requirement for this event in any weight class.
*clarification: "sportsman" in the context of the 250lb class means robots may not have kinetically destructive spinning weapons (spinning bars, spinning discs, etc). Weapons such as sawblades or tires replacing spinner mechanisms are perfectly acceptable, and spinning weapons may be acceptable if they are spun at a low enough speed to be approved by the event organizer.
Combat Time:
Fights will tentatively take place during Comicpalooza as follows:
Sat: 10am-8pm
Sun: 10am-5pm
Fights will be run in multiple weight classes at the same time. We will do our best to prevent time conflicts across weight classes, but they may be unavoidable. Teams will be responsible for getting their own food and drink at the event.
Hotels:
Please use this link to get a hotel at the best possible price for the event. These hotels are the ones we have convention discounts for through Comicpalooza.
Questions
If you have any current questions regarding the event, feel free to contact us at battlebot@innovation-spark.org and one of our team will get back with you as soon as possible. We are also still looking for donations to help cover anything as needed - our donation link is here.