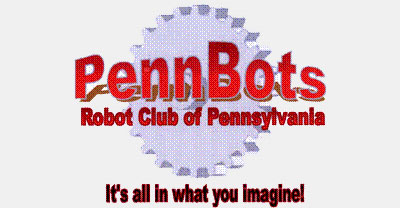 Downtown Dogfight
Boiling Springs, PA, US
March 24, 2012
Event Information
Organizer:

PennBots




Location:

Boiling Springs, PA US


Get Directions

Starts:

Mar 24, 2012

Ends:

Mar 24, 2012
Robot Classes / Competitions
Category
Robot Class
Maximum
Capacity
Currently
Registered
Waiting
List
Entry
Fee
Pit Crew
Allowed
Combat
150 g - Fairyweight
Unlimited
4 Robots
None
10.00 USD
2 Per Robot
Combat
1 lb - Antweight
Unlimited
12 Robots
None
15.00 USD
2 Per Robot
Combat
1 lb - Auto-Ant
Unlimited
None
None
15.00 USD
2 Per Robot
Combat
3 lb - Beetleweight
Unlimited
6 Robots
None
20.00 USD
2 Per Robot
Combat
3 lb - Auto-Beetle
Unlimited
None
None
20.00 USD
2 Per Robot
Open
Line Following
Unlimited
5 Robots
None
0.00 USD
2 Per Robot
Open
Maze Solving
Unlimited
6 Robots
None
0.00 USD
2 Per Robot
Event Description
The Competition will be held at Harrisburg University in Harrisburg, PA
The address is 326 Market Street, Harrisburg, PA 17101
Check in will begin at 9 a.m., mandatory drivers meeting will begin at 9:45, and competition will begin at 10.
Weight Classes include:
Fleaweight—150 grams
Antweight—1 pound
Beetleweight—3 pounds
Matches take place in a 4' by 8' wooden arena. The arena has two "hazards"; 1'x1' holes in opposite corners of the arena floor.
Autonomous Maze Solving and Line following competitions will also be held.
<![if !vml]>
<![endif]>