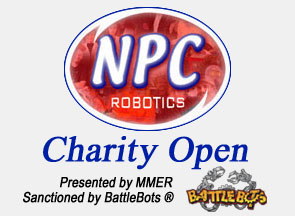 NPC Charity Open
Anoka, MN, US
July 4 - July 1, 2004
Event Information
Organizer:

Synergy Robotics Entertainment




Location:

Anoka, MN US


Get Directions

Starts:

Jul 4, 2004

Ends:

Jul 1, 2004
Robot Classes / Competitions
Category
Robot Class
Maximum
Capacity
Currently
Registered
Waiting
List
Entry
Fee
Pit Crew
Allowed
Combat
1 lb - Antweight
Unlimited
15 Robots
None
0.00 USD
2 Per Robot
Combat
3 lb - Beetleweight
Unlimited
14 Robots
None
0.00 USD
2 Per Robot
Combat
12 lb - Hobbyweight
Unlimited
9 Robots
None
0.00 USD
2 Per Robot
Combat
30 lb - Featherweight
Unlimited
9 Robots
None
0.00 USD
2 Per Robot
Combat
60 lb - Lightweight
Unlimited
17 Robots
None
0.00 USD
2 Per Robot
Combat
120 lb - Middleweight
Unlimited
18 Robots
None
0.00 USD
3 Per Robot
Combat
220 lb - Heavyweight
Unlimited
16 Robots
None
0.00 USD
4 Per Robot
Combat
340 lb - Super Heavyweight
Unlimited
16 Robots
None
0.00 USD
5 Per Robot
Event Description
BattleBots and Minnesota Manufacturing Educational Resource (MMER) are proud to present The NPC Charity Open. All Proceeds from the event will go to the MMER foundation to provide grants and scholarships to high school teams wishing to build robots.
WEIGHT CLASSES:
The main event will run Lightweigt (60lb), Middleweight (120lb), Heavyweight (220lb), and Super-Heavyweight (340lb) classes. There will be a side (builders-only) event hosting Antweight (1lb), Beetleweight (3lb), Hobbyweight (12lb), and Featherweight (30lb) classes. A special *non-combat* Walkers-Only competition will be held as well. More details on the Megaweight Walker Class will be available soon.
SCHEDULE:
June 30th: Earlybird Checkin / Safety and BBQ
July 1-2: Check / Safety
July 2-4th: Competition Starts at 1:00pm on July 2nd
July 5th: May be used as an overflow day.
Early bird checkin is on June 30, but builders can check in anytime through 12:00 PM on July 1st. Builders will have to make sure they leave time for safety check.
ENTRY FEES:
| | |
| --- | --- |
| 60 - 340lb Classes | $325 for the first bot, $200 per bot after the first |
| 1 lb | $25.00 |
| 3 lb | $35.00 |
| 12 lb | $50.00 |
| 30 lb | $75.00 |
| Walker Class | $200.00 |
PIT CREW LIMITS:
| | |
| --- | --- |
| Weight Class | Pit Crew Allowed |
| 1-60 lb | 2 |
| 120 lb | 3 |
| 220 lb | 4 |
| 340 lb | 5 |
| Walker Class | 5 |
HAZARDS:
Yes! Pulverizers in all four corners run by the competitors. There will be no killsaws. Hazards will be active for all matches.
HOTELS, TRAVEL SHIPPING:
Anoka, MN is located just 45 minutes away from Minneapolis/St.Paul Airport (MSP).
MMER is currently working on hotel and airfare deals for competitors. Please check back for more details soon.
Associated Global Shipping has a special rate for those who call 1-800-235-1376. Mention BattleBots or NPC Charity Open.
TECHNICAL REGULATIONS:
60lb to 340lb Classes will use the
BattleBots Technical Regulations ver. 3.2
Sub-lightweight classes will use the
MMER Technical Regulations
Sub-lightweight classes will be qualifiers for the RFL Nationals
VIDEO:
BattleBots will be videotaping the NPC Charity Open to capture pit and combat footage that will be used to close a national television deal. If you want to help get BattleBots back on TV, come to the NPC Charity Open and kick some Bot! Competitors ARE allowed to videotape fights themselves.
MATCH FORMAT:
Will be determined by the number of robots that register. Right now we are strongly considering a double elimination tournament with single elimination in the finals. Matches will be 3 minutes.
PRIZES:
One of the many prizes available will be a brand new Harley Davidson motorcycle.
Read more here
.
Other Events by Synergy Robotics Entertainment
| Event | Date | Location | Robots |
| --- | --- | --- | --- |
| Rotunda Rumble | Apr 27, 2008 | Minneapolis, MN, US | 25 Robots |
| 2006 RFL Nationals | Aug 13, 2006 | Minneapolis, MN, US | 14 Robots |
| Pre-Nationals Last Chance Qualifier | Aug 11, 2006 | Minneapolis, MN, US | 20 Robots |
| Underground Rampage | Sep 25, 2005 | Rochester, NY, US | 21 Robots |
| NPC Charity Open (This Event) | Jul 4, 2004 | Anoka, MN, US | 114 Robots |