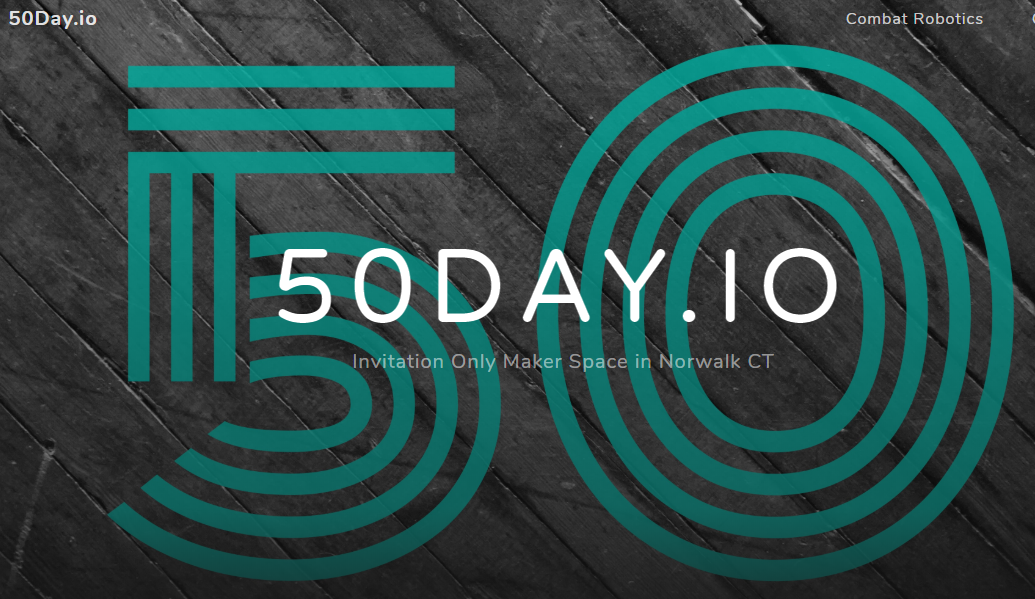 50Day.io Inaugural Fight
Norwalk, CT, US
December 8, 2018
Event Description
50 Day.io is hosting their Inaugural robot battles!
This will be a single day combat robot event with the goal of holding future events on a monthly basis.
This event will be for Beetleweight (3lb) robots but plans are in the works to support 1lb, 3lb, 6lb, and 12lb sportsman classes.
Sign up to compete on the 50Day.90 site  (Limited to 32 Robots)
Schedule - Saturday December 8th 2018
08:00  Doors Open for robotic competitors and their teams
09:30  All competing robots and teams must be present
10:00  Doors open for spectators, Twitch and youtube streams start
10:30  First robot fights begin
18:00  Last fight of the day + winners ceremony
19:00  Drinks / Dinner offsite (Location TBD)
Prizes
1st Place - The 50Day Golden Dumpster + $1000 Cash
2nd Place - $250 Cash
3rd place - Your choice of outdated electronics to keep or destroy
Arena Info
8x6 Double Wall Polycarbonate /w Plywood Floor 1 Moving hazard, Brett the Brick (Slow moving 20lb cinderblock)
Competitor Pits
Folding tables /w 120v Power
Access to a full machine shop and spares provided on an as needed basis. Additional spare parts may be available for purchase
Be a spectator
Come watch the fights in real time. Seating and light refreshments will be provided, space available on a first come first serve basis
Video
Bring an SD card to get a highres video of whatever fights you want before you leave the event.
50 Day.io House Rules
Rules at 50 Day are similar to NERC with a few slight changes. Judges reserve the right to grant exceptions to any rule. Our goal is to provide fun, exciting fights and a fair playing field
Individual Fight Rules
Duration:  3 minutes, or when any competitor taps out or a robot is knocked out. The 3 minutes could be extended due to an "encore"
Encore: If both robots are still fighting with 15 seconds remaining and the audience chants "Encore!" The fight is extended one minute. Fights can only have one encore.
3lb Robot Qualifications
Weight: 3lbs in fight ready configuration.
Any camera or video weight can be exluded.
Weight bonus of 2lbs for robots that do not use wheels for motion
Weight bonus of 1lb for multibots
Failsafe: All robots must pass a radio failsafe test.  Starting the the transmitter on the robot must demonstrait all weapons and motion stops when the transmitter is turned off
Weapons: All robots must have at least one active "Weapon." No wedge only bots.
Weapon safety:  Sharp and spinning weapons should be covered and held in place at all times outside of combat or testing in designated areas. All weapons must reach a safe speed within 60 seconds of transmitter failsafe.
Prohibited Weapons
Nets
Projectiles over 150mph
Liquid of any kind
Weapons which purposefully disrupt radio signals
Strobe lights
Lasers
Voltage limits
Other information
60V Maximum operating voltage
Size limits: Robots must be able to fit in a 30"x30"x24" Box
Multibots: Permitted and encouraged. 2 Robot drivers max per team (Multibots are 2 or more robots that fight as one)
Team Size: 4 People max
Questions: Email contact@50day.io Or text (203) 826-8305
Judging: In the event there is no knock out or tap out, the judges will choose winner. Judges will choose based on which robot was a stronger agressor. All judges decisions are final.
Knock Out: If the robot is unable to show motion after 10 seconds it is considered disabled and knocked out
Fires: Judges reserve the right to stop any match in the event of fire.
Sportsmanship: Judges reserve the right KO or Disqualify any bot or team for unsportmanship like conduct
Other Events by Norwalk Havoc Robot League
| Event | Date | Location | Robots |
| --- | --- | --- | --- |
| NHRL September 2023 | Sep 30, 2023 | Norwalk, CT, US | |
| NHRL August 2023 | Aug 12, 2023 | Norwalk, CT, US | |
| NHRL June 2023 Summer Botfest | Jun 24, 2023 | Norwalk, CT, US | |
| NHRL May 2023 | May 6, 2023 | Norwalk, CT, US | |
| NHRL March 2023 | Mar 18, 2023 | Norwalk, CT, US | |
| NHRL January 2023 - New Bots! | Jan 28, 2023 | Norwalk, CT, US | |
| Norwalk Havoc Robot League - 2022 Championships! | Dec 17, 2022 | Norwalk, CT, US | |
| Norwalk Havoc Robot League - November 2022 | Nov 12, 2022 | Norwalk, CT, US | |
| Norwalk Havoc Robot League - September 2022 | Sep 17, 2022 | Norwalk, CT, US | |
| Norwalk Havoc Robot League - July 2022 | Jul 16, 2022 | Norwalk, CT, US | |
| Norwalk Havoc Robot League - May 2022 | May 14, 2022 | Norwalk, CT, US | |
| Norwalk Havoc Robot League - April 2022 | Apr 23, 2022 | Norwalk, CT, US | |
| Norwalk Havoc Robot League March 2022 | Mar 26, 2022 | Norwalk, CT, US | |
| Norwalk Havoc Robot League | Dec 18, 2021 | Norwalk, CT, US | |
| Norwalk Havoc Robot Leauge | Nov 13, 2021 | Norwalk, CT, US | |
| Norwalk Havoc Robot League | Sep 18, 2021 | Norwalk, CT, US | |
| Norwalk Havoc Robot League | Jul 24, 2021 | Norwalk, CT, US | |
| Norwalk Havoc Robot League | May 15, 2021 | Norwalk, CT, US | |
| Norwalk Havoc Robot League | Mar 20, 2021 | Norwalk, CT, US | |
| Norwalk Havoc Robot League | Feb 6, 2021 | Norwalk, CT, US | |
| Norwalk Havoc Robot League Final!!! | Dec 12, 2020 | Norwalk, CT, US | |
| Norwalk Havoc Robot League | Nov 21, 2020 | Norwalk, CT, US | |
| Norwalk Havoc Robot League | Sep 19, 2020 | Norwalk, CT, US | |
| Norwalk Havoc Robot League **SUNDAY ADDED** | Jul 18, 2020 | Norwalk, CT, US | |
| **CANCELED* Norwalk Havoc Robot League | May 30, 2020 | Norwalk, CT, US | |
| Cancelled - Norwalk Havoc Robot League | Mar 14, 2020 | Norwalk, CT, US | |
| Norwalk Havoc Robot League | Jan 18, 2020 | Norwalk, CT, US | |
| Norwalk Havoc Robot Combat!!! | Nov 23, 2019 | Norwalk, CT, US | |
| Norwalk Havoc Robot League | Sep 28, 2019 | Norwalk, CT, US | |
| Norwalk Havoc Robot Combat | Aug 10, 2019 | Norwalk, CT, US | |
| Norwalk Havoc Robot Combat League | May 11, 2019 | Norwalk, CT, US | |
| Norwalk Havoc Robot Combat League | Mar 9, 2019 | Norwalk, CT, US | |
| Norwalk Havoc Robot League | Jan 12, 2019 | Norwalk, CT, US | |
| 50Day.io Inaugural Fight (This Event) | Dec 8, 2018 | Norwalk, CT, US | |